When making jewelry, many different materials are now used, especially precious metals and alloys. Traditionally, the industry has used a number of methods such as engraving (mechanical production) or etching. In the past, an important reason for making gold inlays on expensive works was to personalize them or add meaningful inscriptions. Today, the creative design of jewellery, including the field of fashion jewellery, is becoming more and more important. With laser technology, precious metals such as laser metals and all other metals can be used.
Below are just a few advantages of laser cutting machines compared to traditional cutting methods:
Minimal distortion on parts due to a small heat affected zone
Intricate part cutting
Narrow kerf widths
Very high repeatability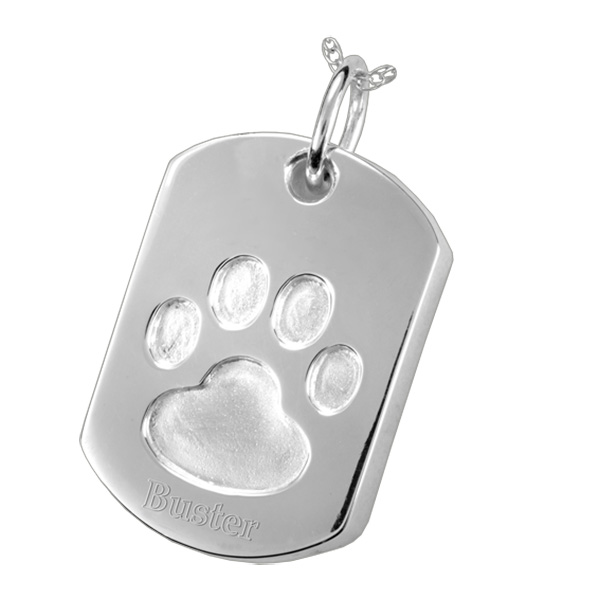 With a laser cutting system you can easily create complex cutting patterns for your jewelry designs:
Interlocking Monograms
Circle Monograms
Name Necklaces
Complex Custom Designs
Pendants & Charms
Intricate Patterns
Custom One-Of-A-Kind Parts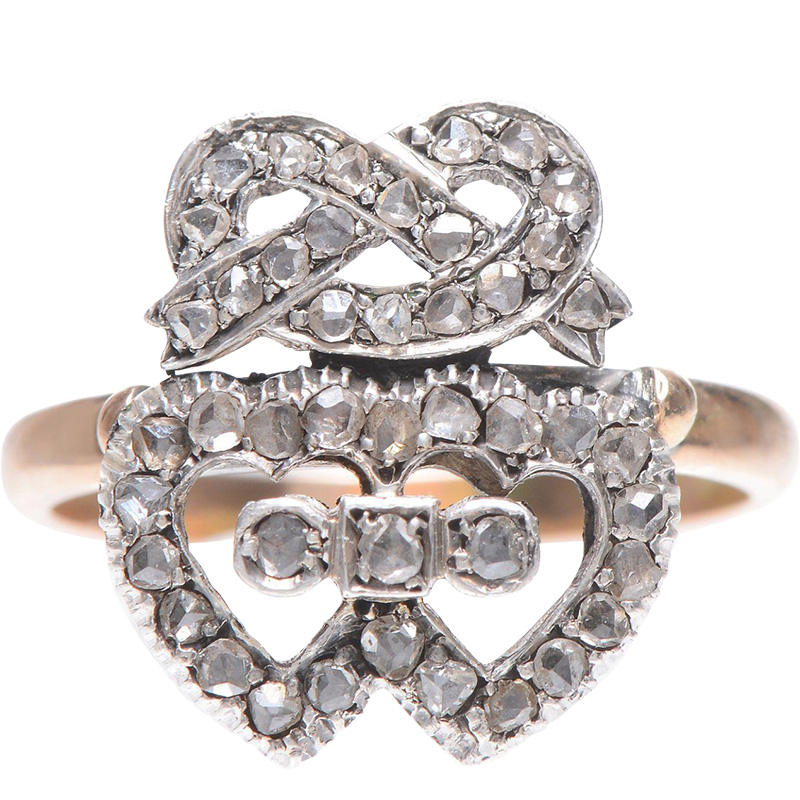 Bar code 
Laser engrave your bar codes, serial numbers, and logos with an AEON Laser system. Line and 2D codes, like serial numbers, are already used in most industries, such as (e.g. the automotive industry, medical technology, or electronics industry), in order to make products or individual parts traceable. The codes (mostly data matrix or bar codes) contain information regarding the parts properties, production data, batch numbers and much more. Such component marking must be readable in a simple manner and partially also electronically and have a lasting durability. Here, laser marking proves to be a flexible and universal tool for a wide variety of materials, shapes and sizes as well as the processing of dynamic and changing data. Parts are laser-marked at the highest speed and absolute precision, while wear is minimal.
Our fiber laser systems directly engrave or mark any bare or coated metal including stainless steel, tool steel, brass, titanium, aluminum and much more, allowing you to create a variety of mark types in no time! Whether you're engraving one piece at a time or a table full of components, with its easy setup process and precise marking capabilities, a fiber laser is an ideal choice for custom barcode engraving.
With fiber making machine, you can engrave on almost any metal.  including stainless steel, machine tool steel, brass, carbon fiber, and more.

Phone case
As the mobile phone is becoming more intelligent, lighter and thinner, the defects of the traditional technology manufacturing technology are continuously enlarged, and the laser laser engraving processing technology has been successfully introduced into the mobile phone manufacturing industry, and has quickly become the darling of the mobile phone manufacturing industry. Compared with traditional inkjet processing, laser laser engraving has the advantages of high engraving precision, non-contact, permanent, anti-counterfeiting and high processing efficiency.
The production information, patent number and other information fonts on the back shell of the mobile phone are very small. The traditional craftsmanship can meet the needs of small characters, and the laser marking machine has a small focusing spot. According to different requirements, the minimum character can be 0.1mm. Below, you are fully qualified for new needs. The development of mobile phone casings has also experienced plastics, anode aluminum, ceramics, metallic paint shells, glass and other materials. Different types of laser marking machines are used in different materials. For example, plastics use more UV ultraviolet lasers, while anode aluminum and ceramics The pulsed fiber laser marking machine was used, and the glass marking was initially tried, but it was finally abandoned.
Advantages of laser laser engraving processing technology on mobile phone casing: Laser laser engraving processing is highly reliable. The marked graphics, characters, serial numbers, clear and wear-resistant, are non-contact processing, so the processed workpiece is not damaged or deformed. Laser laser engraving computer drawing, typesetting, scientific. The required logo can be scanned according to the logo provided by the customer; the serial number is completely auto-coded.
In addition, laser laser engraving has strong anti-counterfeiting performance. Make your products less susceptible to counterfeiting, genuine goods, and must be more popular. The engraving speed is fast and the time is strong, which improves the production efficiency. Laser laser engraving is fine, beautiful and has a strong appreciation. The marking has high marking accuracy, beautiful appearance, generous appearance and good viewing effect.

Furniture
In recent years, in the furniture manufacturing industry, laser technology has also been used for cutting and engraving, which has achieved good results and improved the quality and work efficiency of furniture manufacturing.
There are two ways to work with laser technology in the furniture manufacturing process: engraving and cutting. The engraving method is similar to embossing, that is, non-penetrating processing. Engraving for patterns and text. The related graphics can be processed by computer for two-dimensional semi-processing, and the depth of engraving can generally reach more than 3 mm.
Laser cutting is mainly used in the manufacture of furniture for the cutting of veneer. MDF veneer furniture is the mainstream of current high-end furniture, regardless of neo-classical furniture or modern panel furniture using MDF veneer production is a development trend. Now the use of veneer inlays of different colors and textures in the production of neo-classical furniture has produced elaborately-designed furniture, which has improved the taste of furniture, and also increased the technical content of furniture and increased profits. space. In the past, the cutting of the veneer was manually sawn by a wire saw, which was time-consuming and labor-intensive, and the quality was not guaranteed, and the cost was high. The use of laser-cut veneer is easy, not only doubling the ergonomics, but also because the laser beam diameter is up to 0.1 mm and the cutting diameter on the wood is only about 0.2 mm, so the cutting pattern is unparalleled. Then through the process of jigsaw, paste, polishing, painting, etc., create a beautiful pattern on the surface of the furniture.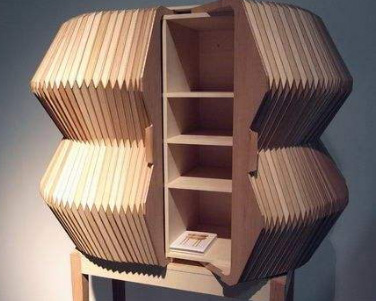 This is an "accordion cabinet", the outer layer of the cabinet is folded like an accordion. The laser-cut wood chips are manually attached to the surface of a fabric such as Lycra. The ingenious combination of these two materials makes the surface of the wood piece soft and elastic like a cloth. The accordion-like skin encloses the rectangular cabinet, which can be closed like a door when not in use.
Label die cutter

A technology that was foreign to the narrow web label printing industry not long ago continues to see a rise in relevancy. Laser die cutting has emerged as a viable finishing option for many converters, especially with the prevalence of short run digital printing.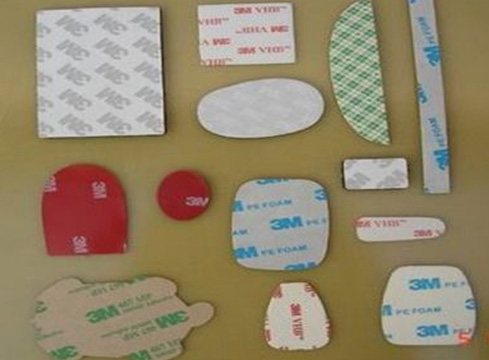 Banner flag

As an excellent exhibition display equipment, advertising flags are being used more and more in various commercial advertising activities. And types of banners are also varied, water injection flags, beach flag, corporate flag, antique flag, bunting, string flag, feather flag, gift flag, hanging flag and so on.
As commercialization demands become more personalized, customized types of advertising flags have also increased. Advanced thermal transfer and digital printing technology in the custom banner ads prevail, but do not match is still a very primitive cutting.
Our machines are very good at cutting different size and frame flag according to customer requests. It helps reduce production and labor for traditional enterprises, improving labor productivity and product quality rate.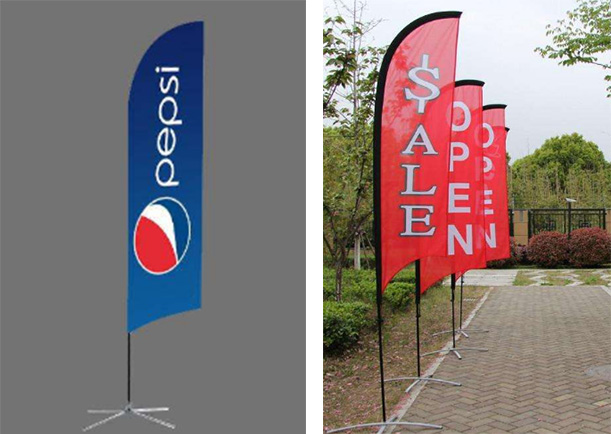 Carpet

Carpet widely used in residential, hotels, stadiums, exhibition halls, vehicles, ships, aircraft and other floor coverings, there are noise reduction, thermal insulation and decorative effect.
Traditional carpet generally used manual cut, electric cut or Die cut. The cutting speed for workers is relatively slow, the cutting accuracy cannot be guaranteed, often need second cutting, have more waste material; use electric cut, the cutting speed is quick, but in the complex graphics cutting corners, due to restrictions by the curvature of the fold, often have defects or cannot be cut, and easily have beard. Using die cutting, it need to make the mold at first, although cutting speed is quick, for the new vision, it must make the new mold, it had high costs for making the mold, long cycle, high maintenance costs.
Laser cutting is the non-contact thermal processing, customers only simply load the carpet on the working platform, the laser system will be cutting according to the pattern designed, the more complex shapes can be easily cut. In many cases, laser cutting for synthetic carpets had almost no coked side, the edge can automatically seal, to avoid edge beard problem. Many customers used our laser cutting machine to cut carpet for cars, aircraft, and the carpet for the doormat cutting, they all have benefited from this. In addition, the application of laser technology has opened up new categories for carpet industry, namely engraved carpet and carpet inlay, the differentiated carpet products has become the more mainstream products, they are well received by consumers. (Golden laser)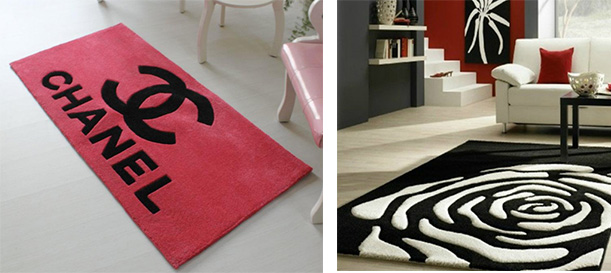 Car interiors

In the automotive interior (mainly car seat covers, car carpets, airbags, etc.) production areas, especially car cushion production, the main cutting method for computer cutting and manual cutting. As the price of computer cutting bed is very high (the lowest price is more than 1 million Yuan), far more than the general purchasing power of manufacturing enterprises, and difficult to personalized cutting, so more companies are still using manual cutting. But Aeon laser machine is a great choice.
After the use of AEON laser cutting machine, the time for a machine to cut a set of seats is reduced to 20 minutes. As the use of intelligent typesetting system, material loss is also greatly reduced, and eliminates the cost of hand-cut labor, so the cost is greatly reduced. Coupled with the application of automatic feeding system, making the production efficiency increasing by one third. While the version of the software embedded, making a version of easy to change version, the product structure has been greatly enriched, new products emerge in an endless stream; In the process, the laser cutting, drilling, engraving and other innovative technology integration which greatly increased the value-added products, and lead the automotive interior processing technology of the new fashion, the rapid rejuvenation of enterprises.

Filtration media

Filtration is an important environmental and safety control process. From industrial gas-solid separation, gas-liquid separation, solid-liquid separation, solid-solid separation, to daily air purification and water purification of household appliances, filtration has become more and more extensive. Apply to multiple regions. Specific applications such as power plants, steel mills, cement plants, etc., textile and garment industry, air filtration, sewage treatment, chemical filtration and crystallization, automotive industry air, oil filters and household air conditioners, vacuum cleaners, etc.
The main filter materials are fiber materials, woven fabrics and metal materials, especially the most widely used fiber materials, mainly cotton, wool, linen, silk, viscose, polypropylene, nylon, polyester, acrylic, nitrile, synthetic fiber, etc. . And glass fiber, ceramic fiber, metal fiber, and the like.
Laser cutting machines are faster and more efficient than traditional methods. It can cut any kinds of shapes simultaneously. Only one step to achieve it and no need to rework. The new machines help you save time, save materials and save space!
Plywood cutting 
With AEON cutting and engaving machine, it will make your working procedure easier and faster. With the help of only one Aeon machine, you can do the cutting, engraving or marking on wood in one turn without the help of other machines.
Wood cutting and engraving are two of the most popular applications for the laser because they can encompass so many different projects. From cabinetry to photo frames to knife handles, AEON Laser systems are used in almost every woodworking category you will run across. Whether you are working with hardwoods, veneers, inlays, mdf, plywood, walnut, alder, or cherry, you can engrave amazingly intricate images with a laser system.
Cutting wood sheets into to different shapes and different length is just a piece of cake with the help of our laser cutting machine. Our speical pass-through door design will help you to deal with the supper long materials. you can cut the unlimited length of wood even without a big machine.
When you need to add some decorations to your wooden products like wood photo frame, wooden box,wooden comb or wooden doors,our AEON laser cutter will turn to an wood laser engraving machine to help you. It's very easy and convenient to engrave your logos,personal images and texts to your wooden products by using an AEON laser engraving machine.
Thanks to laser machine, you don't have to divide wood laser engraving and wood laser cutting into two parts. you can now do these two different jobs just in one turn! Also engraving 3D can be achieved now!

Foams 
AEON laser machine is very suitable to cut foam materials. As it cuts in a non-contact way, so there will not have damage or deformation on the foam. And the heat of co2 laser will seal the edge when cutting and engraving so the edge is clean and smooth which you do not have to reprocess it. With its excellent result of cutting foam, laser machine is widely used for cutting foam in some artistic application.
Foams made of polyester (PES), polyethylene (PE) or polyurethane (PUR) are well suited for laser cutting, laser engraving. Foam is used for suitcase inserts or padding, and for seals. Apart from these, laser cut foam is also used for artistic applications, such as souvenirs or photo frames, for example.
The laser is a highly flexible tool: Everything is possible, from prototype construction through to series production. You can work directly from the design program, which is very important especially in the area of rapid prototyping. Compared to the complex water jet cutting process, the laser is significantly faster, more flexible and more efficient. Foam cutting with a laser machine will produce cleanly fused and sealed edges.

Double color board ABS 
ABS double color board is a type of ABS sheet. It is widely used in the market. It is also available in many types. It can be divided into two types: full-color two-color board, metal-surface two-color board and craft two-color board.
ABS--AEON Laser –mira series can apply to cut Double Color ABS with fast cutting speed and excellent cutting result. Of course, the cutting quality mostly depends on the cutting power and speed.
Laser cutting systems can cut a wide variety of ABS of varying thickness and are well suited for creating complex shapes. The result of engraving on double color ABS is also of high quality. Many customers like to use it for engraving letters and logos on Double Color ABS name plates and signage. Comparing to the traditional methods, laser cutting and engraving is more flexible, faster, more efficient and more precise.